A History of Richmond Classics
Richmond Classics was born on April 1st 1988, a small store (1500 sq ft) over two floors situated in a secondary position just off Bournemouth square at 9 Richmond Hill, hence the origins of our name .
Richmond Classics now Celebrating our 32nd anniversary, over the years we have built up a reputation as the destination for the innovative fashion conscious customers of the south of England and beyond.
Over time we (Richmond Classics) have been featured in various fashion magazines; Arena, FHM and the iconic lads magazine Loaded - with our strap-line "Wear to look the dogs bollocks" (A slang term for the best) using our infamous Staffordshire bull terrier "spesh"  in our adverting campaigns. read more>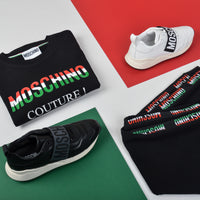 Moschino
Founded in 1983 by Franco Moschino, the Italian luxury fashion house became famous for their colourful, innovative and unconventional designs that quickly became a hit amongst celebrities. Now headed up by Jeremy Scott the brand has catapulted back into the fashion spotlight with their popular logoed designs, slogan t-shirt and pop-culture referencing.
Carrying both Moschino Couture and Love Moschino in store we have an extensive range of Moschino accessories and Moschino clothing for the fashion forward thinking individual. Moschino will always be a favourite at Richmond Classics.
Shop Moschino
Moose Knuckles
Richmond Classics Buying Team first came across Moose Knuckles Three Years Ago at The infamous Italian Mens Designer Fashion Trade show ,Pitti Immagine Uomo held in Florence twice a year showcasing new innovative and exciting up and coming brands as well as established stalwarts the likes of Canada Goose , Blauer. Woolrich, and Parajumpers.
Moose Knuckles stood out as the next must have outerwear brand amongst them and is now a favourite with both celebrities and the terraces here in the UK, mainly due to its high quality design and tongue in cheek attitude towards its competitors .Rather than quoting Thermal insulation values they simply say "Moose Knuckles Jackets are WAF"!!!!
. Moose Knuckles is the go to brand of choice for the cast of Top Boy , Ashley Walters as well as in the music industry Giggs and more recently Young and Bugsey,(UK) Young Thug from across the pond (USA).
The Richmond Classics Buying Teams favourite Moose Knuckles Jacket for this season is torn between The Pengarth Bomber in Carbon Camo featuring tonal embroidered badges on the sleeves and The Javelin Carbon Puffa featuring the very tongue in check design synonymous with Moose Knuckles , Stash pocket and the "Unique detachable Cell Blocking Pouch made from Military sheilding fabric , Blocks out EMI & RFID,Cell,WiFi & Bluetooth "You Aint Seen Me ..Ok"
Let us know your feed back ?
Shop Moose Knuckles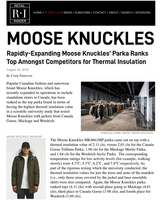 Richmond Classics Bournemouth
Click & Collect Available
Monday - Saturday 
10am - 5pm
01202 290992
Art in Fashion, Fashion in Art
Here at Richmond Classics The Team Love Art & Creative Unique Artists & This is one of our Favourites , both visually & as an investment .
Emily Crook ...
Fashion & Brand inspired artist Emily Crook has always had a passion for art, so upon graduation from university, Emily dedicated herself to creating art and finding her artistic vision. 
Having always taken an interest in Graffiti & Street art, she lets this take influence on her backgrounds, which are created using spray paint and stencil and feature high end Luxury Superlative Designer fashion brands such as Gucci, Dior, Rolex, Balenciaga, Louis Vuitton, and Supreme! Once happy with her branded background, she hand paints her icon on top, usually animation inspired by iconic Disney Characters such as Minnie Mouse, Scooby Doo, Tom & Jerry, Yosemite and Goofy! Her Latest Characters are Matt Groening's The Simpsons. The possibilities are endless , she will also create personal Commissions incorporating Brands and Characters at your request and her styles captures the attention of many art collectors across the globe.  To See more of Emily's Creative original artwork visit Westover Gallery, Bournemouth.
An Original
"Bournemouth Born & Bred" Independent Retailer.
Use us or Loose Us !
Westover Gallery
Richmond Classics Playlist